Skin Care Tips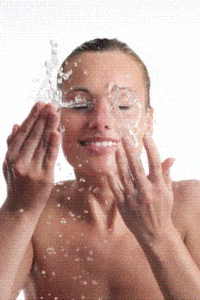 Do you have oily skin? Dry skin? Sensitive skin? Are you prone to acne? All different types of skin require different methods and products to cleanse and beautify skin.
Dry skin – If your face is dry everywhere, irritated, or peeling you should keep your focus on moisture. The first thing would be to drink water. If you have dry skin, it is lacking hydration. Water is key. Second, do not use tap water on dry skin, as it is full of minerals that can further dryness. Also, avoid the use of a washcloth on your face and neck. Washcloths have a rough texture and are not meant for sensitive skin areas. Do not wash your face with soap and water. Use mineral water to lightly spray your face and add moisture; pat dry. Use a moisturizer to soften your skin. After a bath or shower apply a light layer of baby oil to all your skin.
Oily skin – If you have oily skin, consider yourself lucky. Oily skin ages at a slower rate than any other skin type. Clean your skin with hot water and soap (but pure soap, with no additives). When using a product to cleanse your skin, choose an oil-based product. When choosing a moisturizer, pick an oil-free product to prevent your skin from being shiny. Only wash your face 3 times a day at maximum. Try to use a day cream that has benzyl peroxide in the ingredients. Combination Skin – Combination skin is defined as skin with both dry and oily patches. The dry areas are usually the cheeks, and the oily area is normally the T-zone. This is the most common skin type among women. For the oily areas use the oily skin tips and for the dry areas use the dry skin tips.
Acne-prone Skin – Pimples and breakouts are the results of clogged pores. Do not wash your face more than 3 times per day. Either has cold showers or use a water-based toner. Instead of using sunscreen, use sunblock. Sunscreens can chemically react with skin and have a negative effect while sunblocks prevent UV rays and ultimately prevent acne of the epidermis. Stress is an extremely common cause of acne. Try to reduce your stress levels and put away time to relax and sleep. Pressed powders are the worst for acne-prone skin. Pressed powders are thick and clog the pores; this causes a breakout.
Also Read